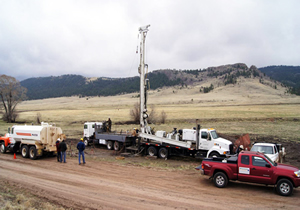 Black Range Minerals Limited (ASX:BLR) is an Australian Securities Exchange listed company focused on growth through the development of its existing uranium projects and through the application of the Ablation mineral concentration process.
Black Range is currently advancing the high-grade Hansen/Taylor Ranch Uranium Project, located northwest of Cañon City, Colorado, USA, toward production. The Project contains JORC Code-compliant indicated and inferred resources of more than 90.9 million pounds U3O8 at a very robust grade of 0.06% U3O8, making it the largest mineable uranium project in the USA.
Black Range has entered into a joint venture with Ablation Technologies LLC to commercialize its Ablation mineral concentration process. This agreement provides Black Range the right to utilize this technology at the Hansen/Taylor Ranch Uranium Project and also provides it exposure to this rapidly emerging process on other uranium projects, worldwide.
Wherever practical, Black Range seeks to utilize mining technologies and methods that are both environmentally sensitive and economically viable, such as underground borehole mining and Ablation.
Black Range continues to assess other investment opportunities, including the acquisition of additional quality projects in the resources sector, with a particular focus on uranium.