Cyclone Rim and Eagle Uranium Projects, Wyoming, USA
Overview
In June 2006 Black Range Minerals signed an agreement with Uranerz Energy Corporation of the USA to form a joint venture to explore and develop the advanced Cyclone Rim and Eagle Uranium Projects located in the Red Desert area of southwest Wyoming.
Considerable resources of uranium were delineated at both the Cyclone Rim and Eagle Projects during exploration in the 1970's. Exploration target estimates are approximately 3 million pounds of uranium oxide (U3O8) at the Cyclone Rim Project and approximately 2 million pounds of U3O8 at the Eagle Project. Both deposits are shallow and amenable to in-situ leaching and/or open-pit mining. With the imminent recommissioning of the Sweetwater Uranium Mill, located just 25km from both projects, the Company could potentially be in production from these deposits in the foreseeable future.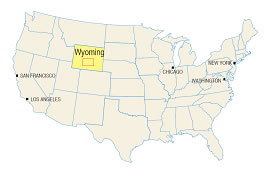 The State of Wyoming, USA and the Red Desert area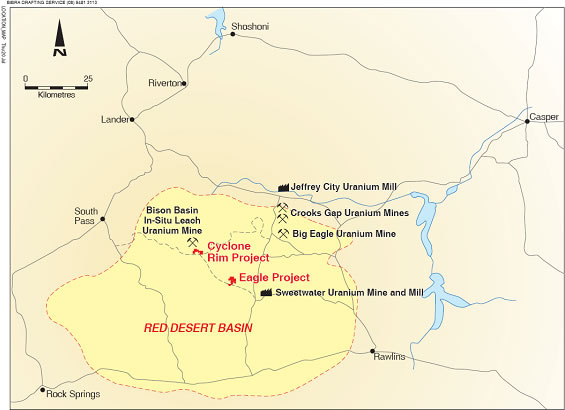 Cyclone Rim and Eagle Uranium Projects - Location Plan
No exploration has been undertaken at the Cyclone Rim or Eagle Projects since the 1970's. The Company has commenced compilation and assessment of historic data. A drill rig will be mobilised to the area during the fourth quarter of 2006.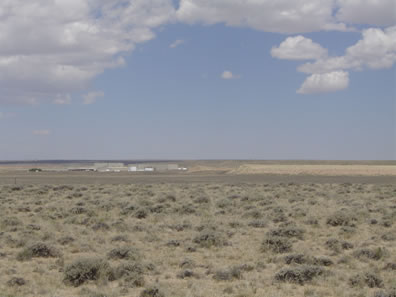 Sweetwater Uranium Mill, Red Desert Basin, Wyoming, USA