Ferris-Haggerty Copper Deposit, Wyoming, USA
During September 2006 the Company secured an exclusive option to earn up to a 90% interest in the historic high-grade Ferris-Haggerty Copper Deposit, located in southern Wyoming, USA.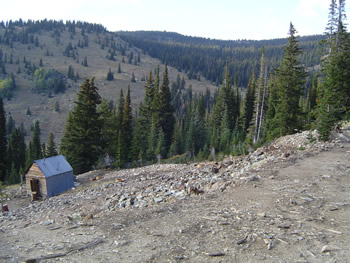 This acquisition provides the Company with an exceptional near-term production opportunity, together with an outstanding exploration play.
The Ferris-Haggerty Copper Deposit was discovered in 1897 and was brought into production the following year. Two shafts and several adits were used to explore and develop the deposit to a depth of approximately 200 metres. The main orebody averages eight to ten metres in width, but is up to 20 metres wide in places. The orebody grades 6% to 8% copper and 3g/t to 4g/t gold. Mineralisation remains open at depth and numerous additional lodes remain untested.
Historic mining focused almost exclusively on the upper portion of the orebody. Weathering resulted in depletion of copper in the shallowest portions of the orebody, substantially enriching the upper zones. Grades in this upper zone averaged over 20% copper.
Mined ore was transported by what was at the time, the world's longest aerial tramway, to a purpose-built mill and smelter complex located in the foothills of the Medicine Bow Range, some 25km away. At that time the Ferris-Haggerty Copper Deposit was the 27th largest copper mine in the world.
Mining operations ceased in 1908, when fire destroyed the mines' processing facilities and a drastic decline in copper prices precluded the viability of rebuilding the facilities. Records indicate that approximately 10,000 tonnes of copper were produced from the mine prior to its closure.
No mining or modern exploration has been undertaken at the project subsequently.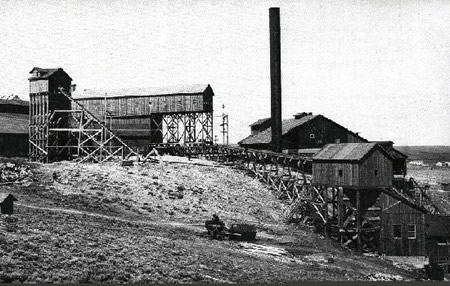 Figure 1.
Historic photo (1902) of the mill and smelter constructed to process ore from
the Ferris-Haggerty copper deposit.
Based on results of previous workers, the Company estimates that there are at least 1 million tonnes of unmined ore remaining within the lower, explored but undeveloped portions of the Ferris-Haggerty Copper Deposit, at grades of 5% to 6% copper and 3g/t to 4g/t gold. No exploration drilling has ever been undertaken. There is considerable potential to discover additional mineralisation both at depth and along strike from the known deposit.
Figure 2.
Long section highlighting the limited extent of previous mining, the
substantial unmined ore, and the considerable exploration potential at
the Ferris-Haggerty Copper Deposit.
The Company is compiling historic data from the project and will commence an underground drilling programme during the second quarter of 2007.