The Cyclone Rim Uranium Project, Wyoming USA
IIn June 2006 the Company secured the right to earn an initial 50% interest in the Cyclone Rim Uranium Project from joint-venture partner Uranerz Energy Limited. The Cyclone Rim Uranium Project comprises mineral leases covering approximately 1,720 acres, also in the Red Desert Basin in southern Wyoming.
115 holes have been drilled at the project previously. Roll front uranium mineralisation has been encountered in six major sand horizons within a 60 metre stratigraphic interval. Mineralisation is in places as shallow as 22 metres and has been delineated to depths exceeding 120 metres. Previous explorers determined that the average grade of the mineralisation is in the range of 0.04% to 0.05% U3O8, with grades as high as 0.11% U3O8 recorded.
Based on results from historic drill holes the Company's initial exploration target estimate is that approximately 3 million pounds of U3O8 have been delineated at the Cyclone Rim Project. Considerable potential remains to extend the extent of the mineralisation along strike and at depth.
Like the mineralisation at the Company's neighbouring Eagle Uranium Project, mineralisation at the Cyclone Rim Project is shallow and amenable to both in-situ leaching and open-pit mining. The project is located within 30 kilometres of the licensed Sweetwater Uranium Mill and provides the Company with another near-term production opportunity.
The Company completed a 43-hole, 5,700 metre drilling programme at the Cyclone Rim Uranium Project in August and September 2007. An independent consultant is now working to calculate a JORC Code compliant resource, which is expected to be completed by the end of the first quarter of 2008.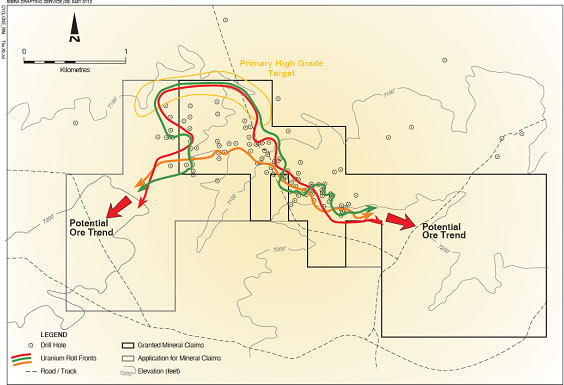 The Cyclone Rim Uranium Project
The Cyclone Rim Uranium Project Area